Use the sorter below to explore
the features of our different modules.
Invite

Welcome

Interact

Virtual
Frequently Asked Questions
Can I try the application for free?
We can create logins for you to access our event management platform on-demand in order to test its features.
You can also schedule a demo of our digital solution with one of our experts.
Can I share my account with my colleagues?
Yes, once your account is created, you can share your access to the CRM with several of your colleagues by sending an invitation email.
You keep the control and can revoke access or modify the rights at any time.
Is it possible to moderate user content?
All content published by users (publications on the social network and chat, questions and answers, shared photos, etc.) and the users themselves are subject to our moderation tool.
You can also set up a priori or a posteriori moderation.
Is there an export tool for the collected data?
Our event management CRM offers a complete and exhaustive data export center. You can download all your data and all the data collected at any time in Excel format.
PDF attendance reports are also available for the check-in and sign-in application.
How can I measure my return on investment?
The dashboard of our CMS contains detailed statistics and graphs to allow you to measure the ROI.
Each of the features of our solution also includes real-time statistics (traffic, connections and user actions, registrations, email tracking...)
Can IWI events be used as a white label solution?
Our solution is fully deployable as a white label, to highlight your brand and its graphic identity without mentioning IWI Events.
We can use your domain name and email address.
Can my event guests log in using SSO (Single Sign On)?
SSO is available on-demand for your event site to facilitate attendee access.
Is the system multilingual?
Our solution is completely multilingual. You can edit your content in 12 languages for your event website and application.
An intuitive translation system is also available for the participants' publications.
Can I add guests from an Excel file?
You can import but also modify the participants' data via our intelligent Excel import module.
An algorithm detects errors and inconsistencies in your Excel file and allows you to correct them during the import.
How will I add content to my website and application?
You have access to a content management CMS that allows you to edit all the content available in your site and application, without making a line of code.
A space for uploading media files is also dedicated to you.
Can we show the results of quizzes and Q&A on a large screen?
Our solution includes an interface to display quizzes, polls, and Q&A. This interface adapts to the size of the screen and is updated in real time.
What about the security of my data?
Your event data is your property, we do not make any commercial use of it and it is deleted no later than 6 months after the expiration of your event.
We are fully GDPR compliant, our servers are secured, your data is encrypted, our code is maintained on a daily basis and our frameworks are regularly updated.
From the design of your digital solution to its deployment, one of our interactive event experts will accompany you throughout the management of the project.
We offer you continuous assistance and support, remotely or in person. Our number one commitment is the success of your event!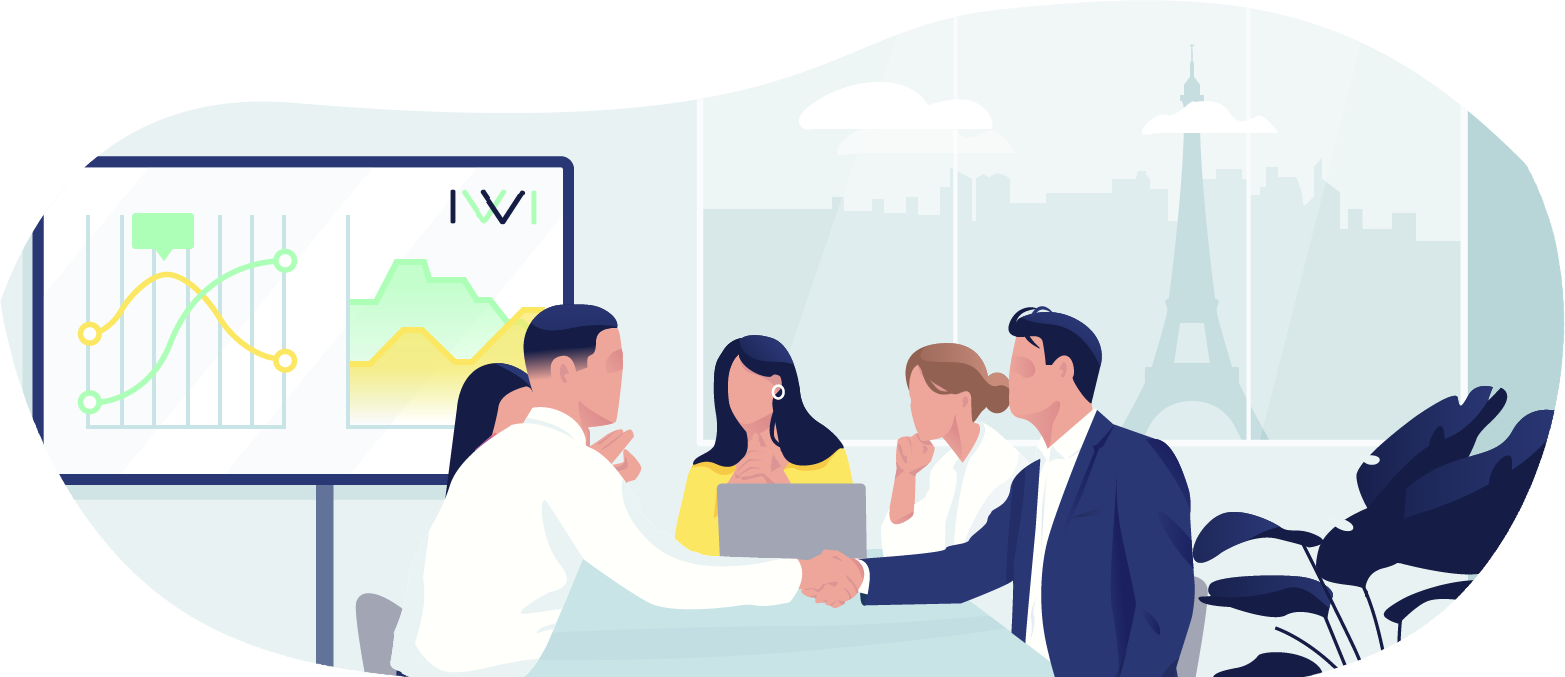 Discover
IWI Events

on

video
We promess it won't take more than 1 minute of your time !